EFFECTIVE SELF HYPNOSIS:
PATHWAYS TO THE UNCONSCIOUS
Book/Tape Combination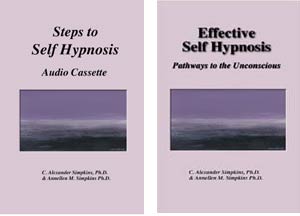 by
C. Alexander Simpkins PhD & Annellen Simpkins PhD


*Gives fascinating background of self hypnosis
*Develops mental tools to get ready
*Offers step-by-step instructions for trance
*Presents clear applications of self-hypnosis to improve living
*55 minute Audiocassette, Steps to Self Hypnosis, leads listener into hypnosis

Effective Self Hypnosis is a comprehensive guide to the theory and practice of self hypnosis. Step-by-step instructions offer a gradual personal experience to learn self-suggestion and trance phenomena. Applications chapters show how to use self hypnosis for learning, stress, pain, fears, habits, weight, smoking, and sports, . Creative individualizing is encouraged throughout. This book will appeal to anyone who would like to learn how to use self hypnosis for self-improvement.

ISBN: 0-967911311 256 pages 6" x 9" Hardcover plus 55 minute cassette tape
List Price $44.95
Buy New $35.96
Book also available separately:
ISBN: 0-967911303 256 pages 6" x 9" Hardcover
List Price $29.95
Buy New $23.96
Tape available separately: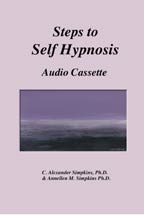 "Steps to Self Hypnosis" is an enjoyable and instructive tape to guide listeners in experiencing self hypnosis. The authors confidently and reassuringly lead the listener into producing and working with hypnosis.
Side One, Introduction to Hypnosis, describes and explains self hypnosis, with exercises to illustrate. Gives answers to common questions. Side Two, Experiencing Hypnosis leads listeners into trance with suggestions for relaxation and inner calm. This tape teaches how to experience the positive potentials of hypnosis.

ISBN: 0-967911338 Steps to Self Hypnosis 55 minute audiocassette tape
List Price $14.95
Buy New $11.96
Ernest L. Rossi Ph.D.
An unusually lucid presentation and integration! The authors present ways to apply the techniques developed in the book to common applications, and they consistently use the therapeutic trance as the primary source for learning. This book gains an extra dimension of reality through the use of exercises throughout the text. For every bit of theory introduced there is an exercise to illustrate it.

Elizabeth M. Erickson
I have read this book and was very favorably impressed with it. The detailed historic overview of hypnosis well presents the progression of understandings and the differences of emphasis in that field. The organization of this book presents and develops the learnings necessary to the accomplishment and utilization of self hypnosis. The gradual progression of exercises then enables the reader to utilize these understandings. I believe my late husband, Milton H. Erickson would have been pleased with this book.

Milton H. Erickson Foundation Newsletter
Effective Self Hypnosis is a combination book and audiotape set, co-written and presented by experienced and skilled practitioners. They have utilized a logical and well thought out framework to bring readers a resource that will enhance both understandings and skills. …Overlying the simple straightforward presentation is a depth of wisdom that subtly glimmers. The organized structure makes the book a fundamental tool to promote the self-development of both the therapist and the lay reader. This is neither a stand-alone manual nor a recipe book; it serves as compass for a serious student. Effective Self Hypnosis helps each of us "…to voluntarily do the involuntary, to deliberately be spontaneous and to regain rapport with your own inner self." (p. vii)
Like the book, the tape presents a sequential progression of information intertwined with well-crafted experiential exercises. The well-integrated building blocks bring together conscious awareness and understanding with that which is not so easily understood consciously.