---

(quick links)
---
Timeless Teachings from the Therapy Masters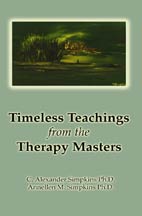 by

C. Alexander Simpkins Ph.D. & Annellen M. Simpkins Ph.D.

This book guides readers on their personal path to effective psychotherapy with theories and methods from masters who represent the art and science of psychotherapy at its best. Through dialogues, theory, and exercises, readers can make these timeless teachings their own. Ideal for anyone in the helping professions.

Learn psychotherapy from masters:
Jerome Frank, John Whitehorn, Carl Rogers, Arthur Combs,
Milton Erickson & G. Wilson Shaffer

*Fascinating interviews describing their work

*Theory sections explain ideas clearly

*Exercises throughout to experiment with the techniques

*Enhance clinical skills for all phases of treatment


Authors: C. Alexander Simpkins Ph.D. and Annellen M. Simpkins Ph.D.
The Simpkins are psychologists who specialize in understanding the mind. They have taught hypnosis to people of all ages and are authors of numerous books including: Principles of Meditation, Living Meditation, Zen Around the World, Effective Self Hypnosis and the renowned Simple series: Simple Zen, Simple Taoism, Simple Confucianism, Simple Buddhism, Simple Tibetan Buddhism.

*
Reviews

Behavioral Science Book Club, Bookspan
Timeless Teachings from the Therapy Masters presents the essence of their work--the commitment to human growth and change that made these pioneer therapists and hypnotherapists so revolutionary--plus creative suggestions and techniques for using this multifaceted body of knowledge for one's own growth, change, and practice as a therapist.
C. Alexander and Annellen Simpkins bring readers into the settings of the dialogues with these masters, revealing the personalities that go with the brilliant minds (Shaffer, a college dean, speaks of his "five thousand sons"; Erickson delights in watching magic tricks). Follow-up chapters dig beyond the insights: back through the theories and worldviews that informed these thinkers, forward to experiential exercises that inspire readers to see things-and people-differently, releasing hidden abilities that can add to the way one does therapy.

Lawrence J. Ryan, Ph.D, Dean, St. Johns College, Faculty, Union College
In their latest offering the Simpkins have done a superb job in highlighting factors that are germane to the process of psychotherapy. Their examination of six hallmark figures in psychotherapy theory, research and practice must be described as intimate, insightful and enlightening. The text incorporates the Simpkins' years of study, observation and systematic interviews of Jerome D. Frank, John C. Whitehorn, Carl Rogers, Arthur Combs, Milton H. Erickson and G. Wilson Shaffer with specific focus on what makes psychotherapy work. Each of the accounts is rich in classic research including philosophical underpinnings, basic psychological processes as well as meta-analyses of the therapy process. Special emphasis is given to the concepts of hope, trust, relationship, flexibility and openness as the operative variables that reappear across the variety of theoretical positions and methods. This text decidedly makes an important contribution to the hot sub-field of psychotherapy efficacy. However, it is the candid observations from the masters that provide the book's substance and potential to enlighten. The Simpkins' work integrates and transcends psychotherapy theory, practice and culture. It should be mandatory reading for all who practice or study psychotherapy.


ISBN: 0967911346 $18.95
Sale $15.50
---

---